From its inception in 1984, Redeemer has had a heart for missions. Our annual Missions Event in early spring is one of the highlights of our year. We are presently involved with 20+ mission organizations. Beyond that we are a sending church, sending out missionaries and mission teams all over the world for mission work both globally and locally.
The foundation of this mission effort has always been prayer, our hearts aligning with God's heart. Our monetary support for missions is funded through faith promises, which are designated gifts beyond our regular commitments to the local church. Other types of donations may include the personal support of a missionary, donation of supplies, requested clothing, medical supplies, or other needed items. If you would like more information or want to serve in this area, contact missions@redeemerpc.com.
Missions Team
Our Missions Team provides leadership of mission activities at Redeemer and acts as a liaison between the congregation and the more than 20 local and international missionaries supported by our church. They meet monthly to make certain all mission activities are functioning properly and oversee the mission focus of the church.
Our Mission Partners
Love Ministries
Voices for the Voiceless
Watauga Vision
Faith Promise
FAITH PROMISE is an amount of money you believe the Lord will provide to missions through your hands. Faith Promise giving is separate from your tithing and may be given all at once, through regular contributions, or at various times during the year. No one checks up on your commitment—it's between you and God. Be prepared to watch for how He provides the funds. Your faith will be increased as you watch His power unfold in your life. Our missions team uses the total amount of Faith Promises committed to help them in preparing the missions budget for the next year.
Annual Missions Event
Our Annual Missions Event, usually held around late February or early March, is one of the highlights of our year. During these days of Covid, our event has been a combination of virtual and in-person as we continue to highlight the testimonies of our missionaries and host dynamic messages from special guest speakers. Our hope is that in 2023 we can return our former in-person, one weekend conference format where catered and international potluck dinners are enjoyed in fellowship together, along with offering a fun and unique kids program focused on missions. If you'd like to be a part of the Missions Event planning team, contact missions@redeemerpc.com.
Missionary Advocates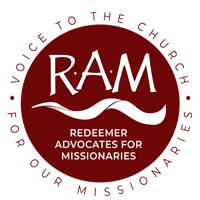 ad·vo·cate
(n.) a person who supports and champions the cause of another.
We partner with missionaries who are taking the Gospel around the world and we advocate for them, as Jesus does for us before our Father. We pray for them. We support them financially. We seek to encourage them. As we support and champion their work for God's Kingdom, we want them to know they have a strong home team rooting for them!
Members of our RAM team are linked with one of our missionary partners and invited to become a special friend who will advocate for them in even more specific ways. Our ultimate goal is to let our missionary partners know they have a family at Redeemer who loves and cares for them, is grateful for the sacrifices they are making to share the Gospel, and will welcome them with open arms whenever they come for a visit!
We welcome new RAM team members! Check our Advocate Guide and if you'd like to inquire further about joining, contact Cary Hamilton at advocate@redeemerpc.com.
Mission Trips
Redeemer plans mission trips to definite locations. We have partnered with Living Waters of the World to help maintain water purification systems in villages in Costa Rica. We serve to not only assist indigenous people with their daily needs, but also minister to them in unique ways. Planned trips and how to participate are announced in the Sunday worship bulletin, on our EVENTS page, and in our weekly email newsletter.